A PERFECT SPA DAY TO SAY GOODBYE TO SUMMER
As the long, warm days of summer begin to fade, there's no better way to bid farewell to the season than by indulging in a rejuvenating spa day. Lapis and Oak, your trusted haven for relaxation and wellness, offers the perfect setting to unwind and pamper yourself. Join us as we guide you through the ultimate Spa Day experience to say goodbye to summer in style.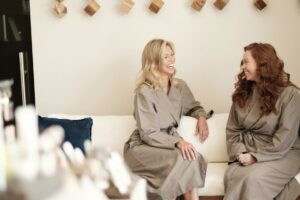 Welcome to Lapis and Oak
Nestled amidst the serene beauty of nature, Lapis and Oak provides a tranquil escape from the hustle and bustle of everyday life. Our spa is designed to help you reconnect with your inner peace and rejuvenate your body and mind. As summer comes to a close, it's the ideal time to treat yourself to some well-deserved self-care.
Morning Bliss: Arrival and Welcome
Your perfect Spa Day begins with a warm welcome from our friendly staff. As you step into the peaceful ambiance of Lapis and Oak, you'll instantly feel your worries melt away. Start your day with a refreshing herbal tea or infused water to set the tone for relaxation.
Rejuvenating Facial
Summer can take a toll on your skin, with sun exposure and heat leaving it in need of some TLC. Our expert estheticians will assess your skin's needs and tailor a rejuvenating facial treatment just for you. For the warm summer months, we recommend Lapis and Oak's Hydrofacial and Hydrofacial Advanced. These treatments are less likely to cause increased sun sensitivity, making them excellent choices for refreshing and rejuvenating your skin during this season.
Hydrofacial: This treatment is designed to cleanse, exfoliate, and hydrate your skin using a gentle, non-invasive approach. It's perfect for all skin types and will leave your complexion looking radiant and revitalized.
Hydrofacial Advanced: For a more advanced rejuvenation, the Hydrofacial Advanced incorporates additional serums and targeted treatments to address specific skin concerns such as fine lines, hyperpigmentation, or congestion. It's a versatile option to ensure your skin stays flawless throughout the summer.
Feel the stress melt away as you indulge in these summer-friendly facial treatments, leaving your skin glowing and revitalized while minimizing any risk of sun sensitivity.
The Ultimate Massage Experience
Next up, it's time for a massage that will transport you to a state of pure bliss. At Lapis and Oak, we offer a variety of massage therapies that cater to your specific preferences and the season. For those looking to embrace the warmth of summer, we recommend two exceptional options: the Hot Stone Massage and the Couples Massage with warm stones and aromatherapy.
Hot Stone Massage: Our Hot Stone Massage is a summer favorite. Smooth, heated stones are skillfully placed on key points of your body, helping to release tension and melt away stress. The combination of heat and expert massage techniques provides a deeply relaxing experience, making it an ideal choice for those seeking relief from the summer heat.
Couples Massage with hot stones and aromatherapy: If you're looking to share a memorable spa experience with a loved one or a friend, our Couples Massage with warm stones and aromatherapy is the perfect choice. The warmth of the stones combined with the soothing scents of aromatherapy oils will transport you both to a place of harmony and relaxation. It's a wonderful way to connect and unwind together while taking advantage of the summer season.
Whether you choose the Hot Stone Massage for solo relaxation or the Couples Massage for a shared experience, these treatments will leave you feeling refreshed and rejuvenated, making the most of the summer vibes.
Indulge in these unique and enjoyable massage experiences at Lapis and Oak, where we tailor each session to your individual needs, ensuring you leave feeling completely revitalized.
Salt Therapy Relaxation Session 
After a morning of pampering and rejuvenation, take your relaxation to a whole new level with Lapis and Oak's Salt Therapy Session. Nestled in our serene oasis, our Salt Therapy Room offers a unique summer experience that will leave you feeling refreshed and invigorated. As you recline in a tranquil environment infused with the soothing essence of salt, you'll enjoy the many benefits of this therapeutic session. Salt therapy is known for its respiratory and skin health benefits, making it an excellent choice for the summer months when we expose our skin to the elements. Breathe deeply and let the salt-infused air cleanse your airways and rejuvenate your skin. It's the perfect way to enhance your Spa Day and say goodbye to summer feeling revitalized inside and out.
Afternoon Detox
For a rejuvenating summer afternoon at Lapis and Oak, we recommend our specially crafted "Liberate Ritual." This comprehensive body treatment includes dry brushing for exfoliation and improved circulation, a liberate scrub infused with pure essential oils for skin rejuvenation, stress relief, and muscle relaxation – perfect for the summer's outdoor activities. Hydration and moisturization are key, with warm organic oils locking in moisture to maintain healthy, radiant skin. Beyond skincare, the Liberate Ritual promotes overall well-being, and you have the flexibility to choose between 50-minute and 80-minute durations. It's the ideal choice to refresh, relax, and prepare your skin for the sun, ensuring you're ready to embrace the fullness of summer.
Farewell to Summer
As the sun begins to set on your perfect Spa Day, take a moment to reflect on the beauty of summer and the rejuvenation you've experienced at Lapis and Oak. Say goodbye to summer with a heart full of gratitude and a body and mind renewed.
Booking Your Spa Day
Ready to embark on this unforgettable Spa Day experience? Visit our website at www.lapisandoak.com to explore our spa packages, make reservations, and find more information about our services.
At Lapis and Oak, we believe that self-care is a year-round necessity, but there's no better time to treat yourself than when the seasons change. Say goodbye to summer with the perfect Spa Day, and step into fall feeling relaxed, rejuvenated, and ready for whatever lies ahead.
We look forward to welcoming you to Lapis and Oak for a day of pure bliss and tranquility. Join us in celebrating the changing seasons and embracing the beauty of self-care.