GIVE THE GIFT OF SKINCARE THIS HOLIDAY SEASON
This holiday season, give your loved ones the perfect skin care products. The gift of skin care encourages your loved ones to practice self-care. Skin care provides a daily reminder to relax, whether it's through a quick treatment or a longer ritual. Find the perfect gift for everyone on your list with these gift options. You'll want to check off these treats on your list if you're making one.
The Perfect Holiday Gift: Skincare
Almost everyone knows that one person who "has everything," and you don't know what to give them. We have Eminence Organics' award-winning Facial Recovery Oil for this. With organic and Biodynamic® ingredients, the Facial Recovery Oil soothes even the driest winter skin with precious herbs and oils.
Known for giving stars like Eva Longoria and Liv Tyler glowing skin, this oil is a celebrity favorite. During the holidays, it's also great for after flying. In an effort to stay hydrated after takeoff, Victoria Beckham keeps a bottle on hand.
Looking for more skincare gift-giving inspiration? 
Eminence Organics Charcoal Exfoliating Gel Cleanser
Eminence Organics Charcoal Exfoliating Gel Cleanser is filled with special ingredients like charcoal, malachite gemstones, and blue matcha. In addition to unclogging pores, this gel lather is rich in antioxidants. It's the perfect solution for any guy on your list who needs to take care of his skin and complexion.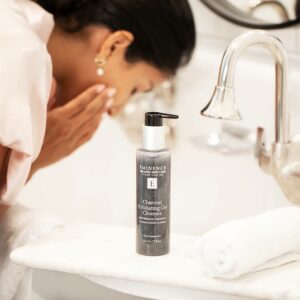 Best-selling mini skincare products from Eminence Organics
This collection of Eminence Organics' best-selling mini products makes a great gift for anyone on your list. It's a complete skin care routine that's good for everyone. It includes a travel-size Eminence Organics Stone Crop Gel Wash, Strawberry Rhubarb Dermafoliant, Stone Crop Whip Moisturizer, Bamboo Firming Fluid, and Neroli Age Correcting Eye Serum.
Eminence Organics Gemstone Collection
If your family and friends are fascinated by gemstones, they're going to love the Gemstone Collection. Combining powerful botanical properties with uplifting energies like citrine and pink tourmaline, these three products have incredible results. There are three Eminence Organics products in the collection: Camellia Glow Solid Face Oil, Charcoal Exfoliating Gel Cleanser, and Turmeric Energizing Treatment.
Eminence Organics Bright Skin Starter Set
The Bright Skin Starter Set contains four mini products (cleanser, moisturizer, mask and serum) designed to help achieve clear and bright skin. Includes a timeless and versatile cosmetic bag with bamboo zipper and faux leather exterior. There are three Eminence Organics products in the set, which are Bright Skin Cleanser, Bright Skin Moisturizer, Bright Skin Masque and Bright Skin Licorice Root Booster-Serum.
Eminence Organics Stone Crop Hydrating Mist
Your man could benefit from hydration with the Stone Crop Hydrating Mist. A versatile toner formulated with stone crop, aloe and bearberry to refresh skin during dry winter weather.
Eminence Organics Age Corrective Starter Set
This is the perfect gift for someone who wants to reduce the appearance of wrinkles and fine lines. With the Eminence Organics Age Corrective Starter Set, wrinkles and fine lines are reduced and skin tone is evened out with potent ingredients like Swiss Alpine Plant Extracts and Licorice Root. Packaged in a sophisticated fabric cosmetic bag with elegant bamboo design accents, these miniatures are ready to be gifted!
The Eminence Organics set includes Monoi Age Corrective Exfoliating Cleanser, Bamboo Age Corrective Masque, Bamboo Firming Fluid, Coconut Age Corrective Moisturizer and Neroli Age Corrective Eye Serum. 
Give the gift of glowing skin
We have also compiled a gift set guide for Ultraceuticals skincare, choices that will dazzle anyone who receives them.
Ultraceuticals Hydrating Duo
This set is perfect for normal skin, and contains two of the most hydrating products. Ultra Moisturiser Cream 75mL nourishes and protects skin while the Ultra UV Protective Daily Moisturiser SPF 50 Hydrating 100mL helps prevent premature ageing due to UV exposure. Both are light and apply easily to skin.
Ultraceuticals Mattifying Duo
Using the Limited Edition Mattifying Duo, you can keep your skin hydrated all day and all night without feeling greasy.
Ultraceuticals Brightening Duo
This brightening duo is a powerful one, with an Ultra Brightening Foaming Cleanser to remove impurities and dirt, and an Ultra Brightening Moisturiser Cream to boost hydration and radiance.
Ultraceuticals Intense Hydration Duo
Our Ultra Rich Moisturiser Cream (60ml) and Ultra Replenishing Mask (75mL) are a powerhouse duo that contain the perfect balance of nourishing ingredients to sink into skin, replenishing moisture levels and soothing dryness.
Ultraceuticals Hydrating Trio
This set of three skin-loving essentials is perfect for those looking to kick start their hydration regime. Contains two Ultra B2 Hydration Masks, a 30mL Ultra B2 Hydrating Serum and 75ml Ultra Moisturiser Cream.
Ultraceuticals Brightening Trio
Dry skin? Not anymore! This powerful trio will enhance your skin's clarity and luminosity with the help of an Ultra Brightening Foaming Cleanser 150mL, Ultra Brightening Serum 30mL and Ultra UV Protective Daily Moisturiser SPF 50 Hydrating 100mL.
Ultraceuticals Super Serums
This luxury collection of best-sellers helps to hydrate, refine and visibly firm skin. Contains an Ultra Brightening Foaming Cleanser 150mL, Ultra A Skin Perfecting Serum 30mL, Ultra B2 Hydrating Serum 30ml, Ultra C Firming Serum 30mL and Ultra UV Protective Daily Moisturiser SPF 50 Hydrating 25mL
Discover our best-selling skincare gifts
Are you looking for a great gift for your loved ones this Christmas? Lapis & Oak's Spa Shop is home to our best-selling skin care essentials, such as Eminence Organics, Ultraceuticals, and more. You'll find the perfect Christmas gift at Lapis & Oak!