INDULGENT PRE-WEDDING SPA TREATMENTS
Elevate Your Bridal Spa Experience at Lapis & Oak
Weddings call for special treatments. To ensure the bride and her bridesmaids look and feel their best, plan ahead for spa treatments that are not just ordinary but extraordinary. These ideas can turn into joyous and celebratory events while indulging in luxurious pampering and preparation. Here are some great ideas:
Exfoliating and Nourishing Body Treatments
Prepare your skin for strapless dresses and honeymoon bikinis with spa treatments designed for brides and their bridal parties.
Say goodbye to stress and tension in hard-to-reach areas with this opulent skincare treatment. Our skilled estheticians will cleanse and exfoliate your skin, eliminating impurities and dead skin cells. Experience the nourishing effects of a hydrating mask that leaves your skin soft and toned. This treatment also releases muscular tension in the back, allowing you to unwind and feel revitalized. Suitable for all skin types, it's an essential indulgence for anyone seeking pampering and a healthy, radiant complexion.
Experience a personalized Custom Massage that caters to your unique needs. Our skilled therapists use ultra-hydrating organic apricot oil and organic massage cream infused with delightful essential oils, leaving your skin soft, supple, and deeply moisturized. A sumptuous Body Soufflé further nourishes your skin, while a Relaxing Organic Scalp Treatment soothes your senses and relieves tension.
Facials
Indulge in pre-wedding pampering with a facial that soothes, relaxes, and enhances your appearance. For more intense treatments like microdermabrasion, schedule them a few days before your wedding. For the best results, book multiple sessions leading up to your big day.
Rejuvenate your skin with the Arctic Berry Peel & Peptide Illuminating System, a facial treatment featuring rare Arctic berries. This advanced treatment reveals a luminous, healthy complexion, leaving your skin smoother, brighter, and more youthful.
Experience luxury and rejuvenation with our Radiant Skin Rejuvenation treatment. The Oxygen Facial refreshes, rehydrates, and restores your skin's vitality, promoting a youthful and vibrant appearance.
Spa and Salt Lounge Entertaining and Group Events
Lapis & Oak Spa and Salt Lounge offers the perfect setting for unforgettable group events. Whether it's a bridal party, corporate gathering, charitable function, or private celebration, we create a world of relaxation and luxury.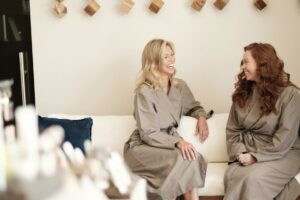 Begin your group experience with smoothies and hors d'oeuvres, setting the tone for an indulgent journey ahead. Our expert team will guide you through customized services to meet your group's unique preferences and needs.
At Lapis & Oak, we transform our spa and salt lounge into your exclusive sanctuary, ensuring your group spa day is extraordinary. Immerse yourselves in tranquility, enjoy our luxurious facilities, and create lasting memories together.
Choose Lapis & Oak Spa and Salt Lounge for an exceptional group celebration, where luxury, serenity, and indulgence intertwine to create a remarkable experience for you and your loved ones.